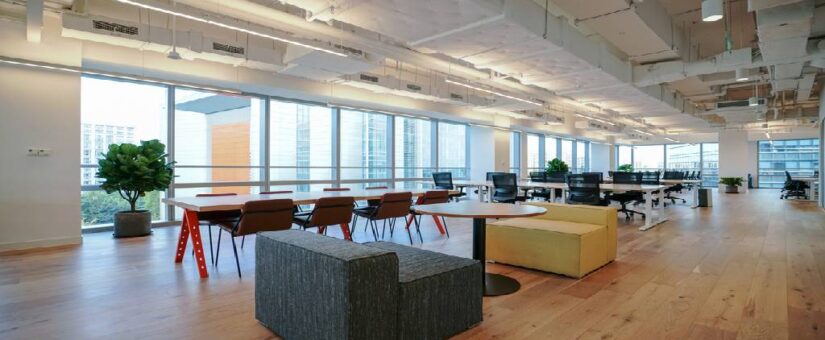 Posted by Sanchi Shah
On February 24, 2021
0 Comments
CEO Office Design, COO Office Design, HR Office Interior Design, Office Interior Design
Interior design is a work by which an office, house, shop is given a form that can enhance its beauty. The same thing is for the office of interior design as well, because the office of an interior is also very important to be very luxurious and orderly. It is also said that the first step only shows the efficiency of your work.
If you are looking for an office for interior design or are looking to enhance it or are thinking for renovation, then this blog is for you. There are some important aspects for any business such as place, space, the brand it wants to have, creativity and budget, but when it comes to an interior design office, there are other things to keep in mind. Let's know about them.
First step in office: For any office, its first step is the most important or the door through which the client is coming in. That door establishes an agreement between the client and the office. Therefore it is important to beautify that first place. It is important to make that door or that place a very gentle and beautiful one. This will show the skills of the employees there.
Introvert vs. Extrovert: Not all employees have the same ideas and similar abilities. Some employees work in the noise. The same few people are calm and mean by their work. In this way, the room in the office of interior design should be in such a way that both the environments are there so that no employee has any problem in working. With this kind of space, those who are introverted will get ease in working and those who are extroverted will not have any problem
ENVIRONMENT OF WORKING: There are many types of work in office and all workers have different tasks. This is an important point in the office of interior design. Many types of furniture for working each task such as
1) A long chair to sit upright for a while
2) Smart boards to work in groups,
3) Small rooms for some small tasks or personal tasks
4) Luxurious furniture such as a head down desk
5) Lounge Area with Big Table to talk with anyone or group.
Having an environment in which everyone can work. Luxurious furniture and space safer furniture can make an interior design office look luxurious.
Equipment to increase efficiency – It is necessary to have some equipment in the office to avoid fatigue, eye fatigue and back pain.
There are many devices such as
Revolving chair or chair which move according the need
Sit and stand desk for work
Source of light so that one can do work in proper light
Keyboard tray which can come out from the table to manage space
Computer table or monitor table with arm that can move according to its function.
Sitting poorly can cause physical illness. It can also affect the work of the employees and also the business. For this, use better furniture and consider it as an investment because when a worker sits correctly, he will also work properly and will give profit to the business.
Work atmosphere:
All employees are required to keep the work space in a very sure manner, thereby saving the space. There should be a cupboard or the right place to place the files. All clients must show that everyone is organized in the workplace and can complete every task in success and in time. Some designs must also be in advance that can be shown to clients. Work environment needs to be very calm but creative.
Office environment
The environment of the office should be fragrant, that is, the windows and doors should be in such a way that no smells are filled inside.
All office rooms should be connected to each other whether with phone or interconnection
Special attention should be given to cleanliness
There should be proper lighting which makes the office beautiful inside and looks attractive.
Dealing with all employees must be accurate and clear
From time to time, some meetings and collaborations should be done so that the problems and tasks coming up can be discussed in detail.
Some other points those are also important to know
For the office of interior design, the interior must be special but it should be designed according to the budget.
All the work should be done ahead of time so that they can be seen before giving an interim.
Everything related to design should be the focus and keep trying to make the office a better one.
It is good for all modern designs, so that the clients also get a chance to see something new.
All these things make an interior design office very luxurious and profitable.

Sanchi Shah is an experienced interior designer providing high quality design services for residential, hotel, commercial and corporate offices clients across Ahmedabad, Vadodara and Gandhinagar.